I love dipping shrimp and crab cakes in remoulade sauce. I've tried many recipes and found one that's tangy, delicious, and spicy. I'll show you how to make homemade remoulade sauce in this post.
Remoulade sauce can enhance seafood dishes, sandwiches, and fries, so I recommend creating it at home. It's easy to create and lets you adjust flavors.
Best Remoulade Sauce
The sauce lets you choose the components. You can modify the heat and tanginess and experiment with spices and herbs to create your own flavor profile.
We use fresh, high-quality ingredients. Preservatives and artificial tastes can ruin store-bought remoulade sauce. You may make a better sauce by creating it at home with fresh, high-quality ingredients.
Homemade remoulade sauce is cheaper than store-bought sauces. Any home cook can make a huge batch of remoulade sauce with a few simple ingredients.
Remoulade Recipe Ingredients
1 cup mayonnaise
1 tablespoon Dijon mustard
1 tablespoon whole-grain mustard
1 tablespoon capers, drained and chopped
1 tablespoon cornichons, drained and chopped
1 tablespoon fresh parsley, chopped
1 tablespoon fresh chives, chopped
1 teaspoon paprika
1/2 teaspoon cayenne pepper
1/4 teaspoon garlic powder
Salt and pepper to taste
How to Make Remoulade Sauce
In a medium-sized mixing bowl, combine the mayonnaise, Dijon mustard, and whole-grain mustard. Whisk the ingredients together until they are well combined.
Add the capers and cornichons to the bowl. These will give the sauce a tangy, pickle-like flavor. Mix well.
Add the fresh herbs (parsley and chives) to the bowl. These will add a bright, fresh flavor to the sauce. Mix well.
Add the paprika, cayenne pepper, and garlic powder to the bowl. These spices will give the sauce a bit of heat and depth of flavor. Mix well.
Season the sauce with salt and pepper to taste. Keep in mind that the capers and cornichons may already add some saltiness to the sauce, so taste as you go.
Once all the ingredients are well combined, cover the bowl with plastic wrap and refrigerate for at least an hour before serving. This will allow the flavors to meld together and become even more delicious.
Serve the remoulade sauce with your favorite seafood dishes, such as shrimp, crab cakes, or fried fish. It also works well as a dipping sauce for french fries or as a sandwich spread.
How to Make Remoulade Sauce Spicy
Cayenne pepper is the most common spice used to add heat to remoulade sauce. Start with a pinch and add more to taste until you reach the desired level of spiciness.
For a more complex heat, you can add diced jalapeños to the sauce. Start with a small amount and adjust to your liking.
Start a little and add spice to your remoulade sauce to taste. Spice can be added, but it's hard to remove. A spicy remoulade sauce will elevate your seafood meals with a little experimenting!
Creole Remoulade for Prime Rib
Creole remoulade sauce goes well with other meats, especially prime rib.
The acidic and spicy creole remoulade sauce balances the richness of the prime rib. Serve the sauce on the side so visitors may adjust the amount.
Try this combination if you're hesitant to try something new. Remoulade sauce elevates the delicate, meaty prime rib. It also mixes up your menu.
Try it—you might find your new favorite prime rib recipe!
Remoulade Sauce Recipes FAQs
Can I substitute the mayonnaise with a healthier alternative?
Greek yogurt or avocado can replace mayonnaise, but the sauce will taste and feel different. Mayonnaise gives remoulade sauce its rich, creamy flavor. Use light or low-fat mayonnaise to cut calories and fat.
Can I adjust the amount of heat in the sauce?
Yes! If you prefer a milder sauce, reduce the amount of cayenne pepper or omit it altogether. If you like it spicy, add more cayenne pepper or a few dashes of hot sauce.
How long will the remoulade sauce keep in the refrigerator?
Remoulade sauce can be refrigerated for a week if sealed. If you're serving it after a few days, the taste may intensify, so adjust the seasoning.
Creole Seasoning vs. Cajun Seasoning
Creole and Cajun seasoning are two spice blends that are commonly used in Louisiana-style cuisine, but they have some key differences in terms of their ingredients and flavor profiles.
Paprika, garlic powder, onion powder, oregano, thyme, and cayenne pepper make up the creole seasoning. It often incorporates salt and black pepper, unlike Cajun seasoning. Paprika and cayenne pepper give Creole spice its rich flavor.
Cajun seasoning is usually made using paprika, cayenne pepper, garlic powder, onion powder, and black pepper. Gumbo and jambalaya benefit from their strong, spicy flavor.
Origins distinguish the two. Creole cuisine, from New Orleans, is French and Spanish, whereas Cajun cuisine, from rural Louisiana, is French Canadian and Native American.
How to Store Remoulade Sauce
Remoulade sauce can be stored in the refrigerator for up to one week, provided it is stored in an airtight container. Here's how to properly store remoulade sauce:
Allow the sauce to cool completely before storing it in the refrigerator.
Transfer the remoulade sauce to an airtight container, such as a jar with a tight-fitting lid or a plastic storage container with a snap-on lid.
Make sure the container is clean and dry before transferring the sauce.
Label the container with the date the sauce was made, so you can keep track of how long it has been in the refrigerator.
Store the remoulade sauce in the refrigerator for up to one week.
You can remix the remoulade sauce before using it again. If the sauce is excessively thick, dilute it with water, vinegar, or lemon juice.
For safety, remoulade sauce should be discarded after two hours at room temperature. Foods left at room temperature can proliferate bacteria quickly, causing foodborne disease. After using remoulade sauce, refrigerate it immediately.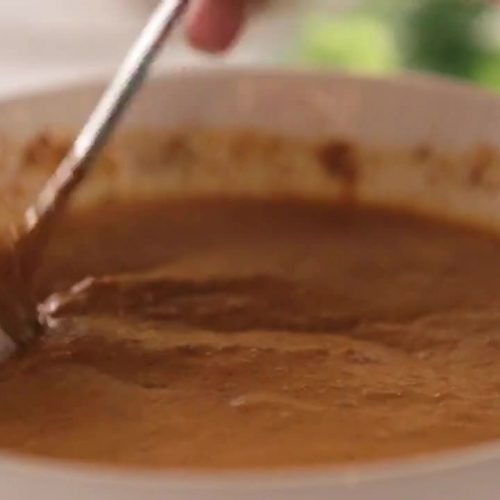 Remoulade Sauce Recipe
Looking to add some zing to your meals? Learn how to make homemade remoulade sauce with our step-by-step guide. This tangy and versatile sauce is perfect for seafood, sandwiches, and more.
Equipment
Bowl for mixing

Spoon for stirring
Ingredients  
1

cup

mayonnaise

2

tablespoons

Creole mustard

1

tablespoon

Worcestershire sauce

1

tablespoon

hot sauce

2

cloves

garlic

minced

1

tablespoon

lemon juice

1

tablespoon

capers

chopped

2

green onions

thinly sliced

Salt and freshly ground black pepper

to taste
Instructions 
In a medium bowl, whisk together the mayonnaise, Creole mustard, Worcestershire sauce, hot sauce, garlic, and lemon juice until well combined.

Stir in the chopped capers and sliced green onions. Season with salt and black pepper to taste.

Cover the bowl with plastic wrap and refrigerate for at least 30 minutes to allow the flavors to meld together.

Serve the creole remoulade sauce alongside your prime rib roast for a tangy and flavorful pairing.
Notes
Add two to three tablespoons of spicy sauce for more heat.
Alternatively, you may add Cajun seasoning.